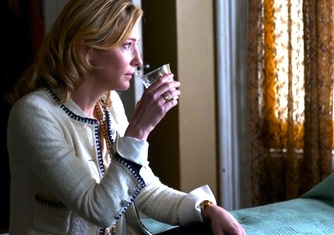 Woody Allen is channeling Edith Wharton, and it is delicious. For his latest project, Blue Jasmine, he places the beautiful, pampered Manhattan wife of a successful hedge fund manager under his lens. They are a rich and powerful couple — for a time. Then comes an indictment, a prison sentence, a separation and a fall from grace for Jasmine, brought to life, a Birkin on her wrist, by Cate Blanchett. Jasmine, a modern day Lily Bart, unravels like a threadbare Chanel jacket. Here's the New York Times review.
If you live in Manhattan, you have a friend or an acquaintance or an acquaintance of an acquaintance who knows someone who has actually lived this. Ruth Madoff was the most spectacular and un-exemplary example of a woman who basked in the warm radiance of her husband's super wealth and asked questions later. He earned the scorn of the nation, but in New York and on the Upper East Side especially, where many of his wealthiest investors lived, it was personal. Tens of millions were lost and many families, as well as some of New York's most cherished cultural institutions to which they were important donors, have yet to recover.
All over our town there are high profile and not-so-high-proile high earners who wind up under scrutiny, or will. Steve Cohen's SAC Capital was just indicted on criminal fraud charges tied to alleged insider trading. It is a not entirely uncommon story and it prompts one to ask how many uber-wealthy Manhattanites are only temporarily so. Whenever these stories come to light, my girlfriends and I wonder how the man's wife and family will fare. So did Woody Allen.