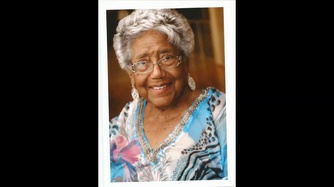 June Dobbs Butts, a pioneer of sex research, died this week. She was nearly 91 years old.
I first encountered Dobbs Butts while I was researching UNTRUE, a book about female sexuality, and I was shocked I'd never heard of her before. Her research was every bit as important as that of Masters and Johnson and Alfred Kinsey—she was perhaps the first sex researcher to specifically investigate the sexual experiences of Black Americans, and was also a pioneer in crossing sex research into the mainstream. She also quickly became a hero of mine for her unapologetically female perspectives on the study of sex.
June Dobbs was born in Atlanta, one of six daughters of the city's highly respected black political influencer, John Wesley Dobbs (eventually, she would become the aunt to Maynard Jackson, Atlanta's first black mayor.) June Dobbs and her sisters were all exceptionally bright and accomplished—all attended Spelman College and most pursued graduate degrees—but their father never let them forget that they were girls. In an interview, Dobbs Butts said that she knew that boys were "more important" than girls when her nephew was born. Despite having barely registered the birth of his three granddaughters, John Wesley Dobbs packed up the whole family to caravan in three cars to Texas to meet the infant boy in a kind of pilgrimage. "I was 10 years old," Butts said, "And Daddy's gift was a pocket watch. Twenty-one-jewel Hamilton watch. I was jealous. And I said, 'Why are you giving a baby a watch? It's a pocket watch, he's in diapers. Why are you doing this, Dad?' And so he said, 'Well, because time is important, and he must know that.' No one ever told me time was important, I'm looking at my Mickey Mouse watch, I felt like a fool, and I said, 'Well, I guess girls are not that important.'"
In defiance of this "lesson," June Dobbs devoted herself to school...and eventually the controversial choice of training in sex therapy and counseling. She earned her EdD in family life education from Columbia in 1969—after fifteen years of marriage and childrearing. Shortly thereafter she and her husband, an MD whom she has decribed as disapproving of her interest in sex education, divorced. She once said she believed that, like many men, "he seemed to feel that when I got my degree I'd just hang it on the wall" rather than put that education into practice by writing about sex. Um, no.
Dobbs Butts taught at Fisk University, Tennessee State University, and at Howard University's School of Medicine Later, she served as visiting scientist at the CDC.
Dobbs Butts was the first black person to be trained at Masters and Johnson Institute, after having met Virginia Johnson while serving on the board of Planned Parenthood. She brought her particular experience to the study of sex research and therapy by synthesizing the cultural phenomena of the time: the Civil RIghts, Black Power, and the women's rights movements. A childhood friend of Martin Luther King, Jr., Butts tackled the history of marginalization and  fetishization of black men and women by mainstream America by educating them about sexual health. She wrote for popular black publications like Ebony—where she penned their first feature on sexuality, "Sex Education: Who Needs It"— and Jet and Essence.
This work caused her to constantly confront respectability politics. In a time when black Americans were just starting to make headway in being considered upright members of society, many wanted Butts to pipe down about something as distasteful as sex. In an interview, Butts recounted that "When I first wrote [the recurring Essence column, "Sexual Health"], I sent a copy to one of my sisters. I didn't hear anything. Finally, I asked her what she thought. You know what she said? 'Well, to tell you the truth, June, it turned my stomach. I didn't think black women would write about things like that.'" Her daughter, too, was embarrassed by her mother's "salacious" academic focus, insisting she not lecture at schools she was attending despite invitations to do so.
But Butts pressed on. In addition to writing and counseling couples in private practice, in the 80s, Butts held the position of assistant professor of psychiatry at Howard University, where she researched the formation of concepts of sexuality in pre-adolescent black children.
June Dobbs Butts is a hidden figure of sex research the way Katherine Johnson was of astronautics. You may not know her name, but we owe this trailblazer a debt of gratitude for her efforts to normalize female sexuality, and especially black female sexuality. She brought sex research and sex education in the mainstream, directly to the Black couples she believed needed the information, by writing for popular publications. You might honor her memory by telling a friend about her contributions to your healthy sex life—or by giving a baby girl a pocket watch.