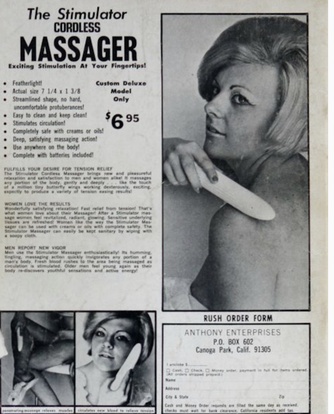 Bzzzzzzzzzzz. Do you have a vibrator? Or any sex toys at all? If not, why not treat yourself to one today? They bring joy and orgasms. So having one on hand/in hand is yet another way to prioritize your own pleasure during this twelve day period. I hope it becomes a habit all year long. To find a great toy, you might dash off to THE PLEASURE CHEST, or avail yourself of an internet resource like UNBOUND ("an online shop for rebellious women")
 There are many types of sex toys but today I'll focus on vibrators. While writing my most recent book on female sexuality UNTRUE, I spoke to experts who came at female pleasure from a lot of different perspectives. Evolutionary biology, psychology, sociology, sex research. I especially enjoyed speaking to sex educators and sex workers, and when I did, I always asked about their favorite vibrators. THE MAGIC WAND was a name that came up again and again. As was THE WOMANIZER, which doesn't vibrate but rather uses little puffs of air to simulate skillful cunnilingus. YES, IT REALLY DOES THAT!!! I know other women who swear by anything by LELO and also THE FEMME FUNN ULTRA BULLET.
Buy yourself a present that might blow your mind. Or ask your partner to. If you have a favorite toy and don't mind sharing, let me know.
If you're interested in the history of vibrators and recent discoveries in vibrator scholarship have a look at my previous blog post THE GREAT CORRECTION