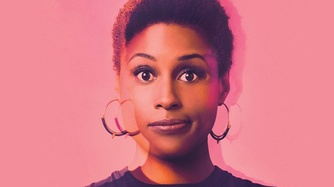 Issa Rae. If you haven't watched her show Insecure, you are in for a treat. As in, something irresistible. In the #metoo moment, at a cultural crossroads where Roy Moore almost won and zero women directors were nominated for a Golden Globe, Rae and her show are a blast of what we need now. 
Rae's been at it since she was a college student at Stanford, where she created the breakout web series Misadventures of Awkward Black Girl. Insecure mines some of the same terrain as Awkward Black Girl--its protagonist, Issa, is a twenty something Black woman trying to figure it out in L.A. Rae has the honesty and verve to allow her protagonist to have a healthy sense of sexual curiosity and entitlement. After reconnecting with an old crush on Facebook, she "cheats" on her live-in boyfriend. 
Social media exploded, with the twitterverse dividing itself into #teamlawrence and #teamissa. There was no shortage of judgment and slut shaming. The series creator did not back down, saying in an interview with Larry Wilmore on iHeartRadio "This wasn't about Lawrence--this was something Issa the character wanted to do." Rae talked about George Clooney putting off marriage as long as possible and having lots of girlfriends and noted, "Nobody's calling him a ho!"
Rae is running her own show, literally and figuratively, and is unapologetic about creating a complex Black female character with flaws, intelligence, a sense of humor, and sexual agency. I love that Rae was nominated for a Golden Globe in the Best Actress in a Comedy category. You can see new episodes starting in August, I'm told. Meanwhile, binge the first two seasons if you haven't and tell me what you think.